Our History
About Our School
Welcome to
Alagu Jothi Academy
Inception of AJA with great focus and AIM , in the Year of 2008 June 2nd , at 12B Cauvery Nagar, No.2 Road, Mayiladuthurai, with 101 students from Pkg to Std I. Then with good response from the parent and NRI have come forwarded and expected AJA to develop further increase the classes, We Started Pre-Kg to 6 Std in 2009.
Now the school has grown up to Sr. Sec level , with more than 1500 students whereas the school at Cauvery Nagar has grown from PKG to Standard V as a Vidhyalaya campus. To add a feather to our crowning glory, a coffee shop is provided at this campus on the outdoors to facilitate the refreshments for the school goers as well as for the public.
Our main school at Melaiyur is named as GURUKULAM , where we have a 22 acres of land ,with a lush green land scape, with a thousands of organic trees and ornamental plants forming a eco-friendly hub for birds and insects. We house a poultry farms for cattle's at a corner, where in pets like Dogs, Goats, Cows, Hens and Rabbits are reared to teach the students a hands on experience of eco-friendly natural habitat.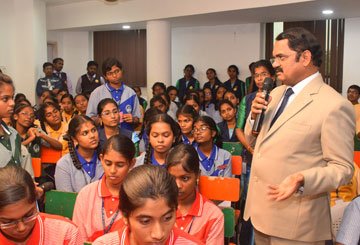 Our AJA building stands tall with a state of the art which is in the shape of a lamp. Signifying "ALAGUJOTHI", enlightening the students from darkness. We are overwhelmed with our students performances, who never disappoints us to score a cent percent results in X th and XII th CBSE board exams since 2014 have been topping the District level consistently
As of now, our students have been the best performers in co-curricular and extra-curricular activities such as Indoor or outdoor games, in this district. We have produced State level and National champions in Archery ,Yoga and Athletics. Science Olympiad and Maths Olympiad are conducted to bring out the best talent in students.
Many Cultural events, festivals and science exhibitions have been conducted to showcase the hidden talents of our students. Where in parents and students bond well to help each other.
Scouts are trained to handle the emergency situation with camps and workshops.
Our Aluminites' , students are placed well in prominent institutions like IIT Pune, Indira Gandhi university, Delhi VIT,SRM, Government medical colleges and other prestigious institutions in Chennai, other states and Aboard countries.
Some of them have finished their degree and are pursuing their higher PG courses, abroad whereas some are working in top IT companies. Our Aim was to produce a holistic growth in students, where they not only excel in studies but also have value and ethics, with good physique in word and soul.
Alagu Jothi Academy Gurukulam Campus
Thank you for visiting us and whether you are considering AJA as your next school or have already decided to come aboard, welcome to home away from home, we hope this website will convey our sense of purpose, our commitment to excellence, and our devotion to the holistic development of each student.
Alagu Jothi Academy Vidhyalaya Campus (Nursery primary School)
Alagu Jothi Academy strives to provide a wholesome growth to its student's right from the formative years. The curriculum has been designed in a well structured manner to satisfy the insatiable hunger of the young minds. The pedagogy is supported by research and modern techniques, so that the learning is in depth.